You are here
S1A Entuity Analytics
Your network is the heartbeat of your business, manage it with speed and accuracy
Network outage costs are estimated by some organisations at £5-6,000 a minute. An outage of just one hour could cost a business £300,000.  Outage costs add up quickly. Don't let IT failures affect your bottom line.  Ensure your services, applications, and transactions are performing at their best.  Proactively manage your network with Entuity Network Analytics -  your business' success and customers' productivity rely on it.  Because the network connects your business to the world.
Entuity Network Analytics for today's digital ecosystem
Entuity Network Analytics (ENA) is a powerful, yet easy-to-use, enterprise network analytics solution designed to help organisations to maximize network performance and service availability.
Rapidly changing networks require faster insight and faster problem resolution.
Entuity Network Analytics:
reduces alert noise so you can focus on what is important to you
fixes issues quickly and gets to the root cause using real-time analytics
allows for proactive management with predictive trends
supports a multi-cloud strategy.
ENA is easy to install, customize, operate and maintain, and lowers total cost of ownership to a fraction of other products.
Clarify the Chaos with Entuity Network Analytics. Faster Insight. Faster Networking.
Product Highlights
Enterprise scalability. Scales easily, federated architecture for seamless expansion.
Supports Multi-tenancy, including overlapping IP addresses for management from the same server
Provides industry's best custom- dashboard builder to reflect how IT organisations manage their networks
Always-on business services require always-connected management. 100% mobile-enabled for management from laptops, smartphones, tablets
Integrates with 3rd party vendors --BMC, Dell, ServiceNow, Oracle, HP, IBM
For more information please contact us.
View our datasheet on this product.
Entuity Network Analytics in 30 seconds: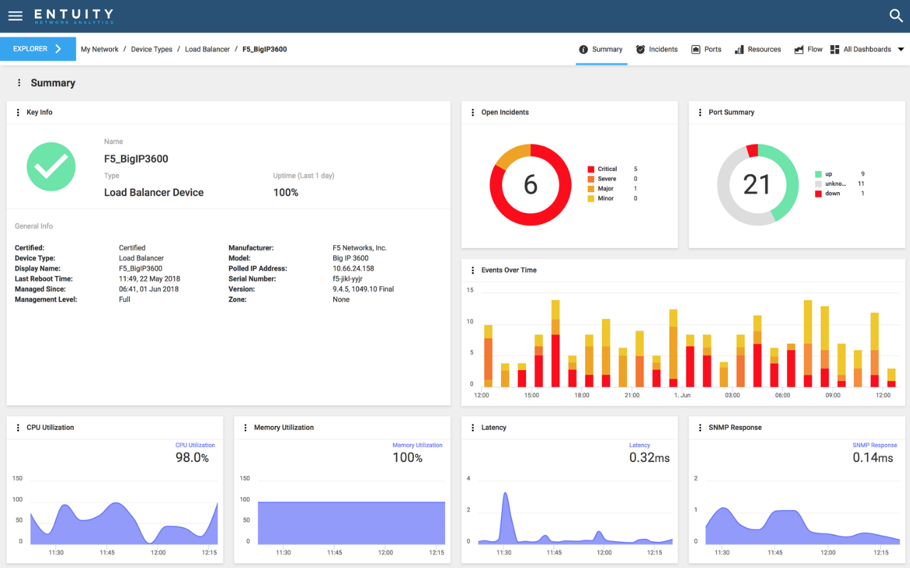 Screen of load balancer device.  
Dashboards make understanding how devices are operating straightforward and practical for many audiences.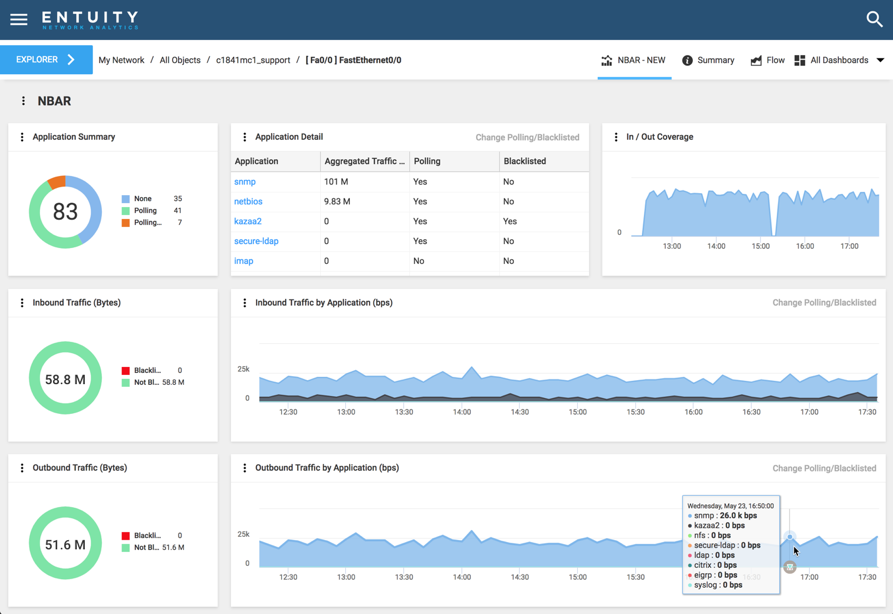 This NBAR dashboard will help simplify managing traffic by application which is critical in ensuring performance is at high levels.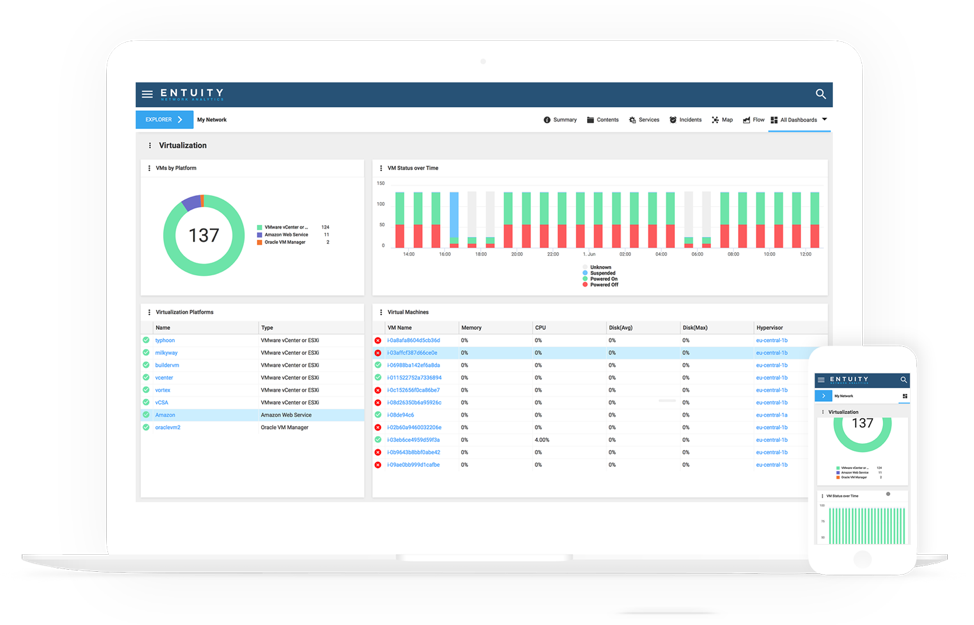 Keeping tabs on Virtual Machines on this dashboard example will make your job easier.  Especially when you can manage via a smartphone, laptop or ipad with all the management capabilities as if you were in the data center.